Rigid Overview
Designed to produce the cleanest beets in the business, the Alloway defoliator has become the workhorse for beet growers across America. They are proven performers in every growing region and in all soil conditions.
Back to Top
Features and Benefits
Belt Driven from both sides of machine makes the Alloway Defoliators more reliable, easier to service and less costly to maintain.

[ 1 ]

Choice of Steel L Knife or Steel Cup Knife on front drum to match various harvesting conditions.

[ 2 ] [ 3 ] [ 4 ]

Center Hanger Bearing reduces soil build up on wider machines (8 Row and up).

[ 5 ]

Hinged PVC Top allows for less build up, and easy access to drums to clean and service.

[ 6 ]

Bolt on Flail Clusters make it easy to adapt the machine to different row spacing and makes service fast and easy.

[ 2 ]

Heavy Welded on Flail Mount Clips make it easy to switch knife types.

[ 3 ] [ 4 ]

Flail Tubes With Triple Lip Sealed Bearings have replaceable drive shafts for fast in-field replacement without welding.
Heavy Duty Pull Type Hitch with cylinder and hoses makes leveling an easy task, provides durability, and supports the main frame.
Molded PVC Rear and Front Shields (steel flails) keep objects inside for extra safety.
Hydraulic Rear Struts with re-phasing cylinders enables even height adjustment to be made from the tractor operator's seat.

[ 7 ]

Wheel Mud Scrapers on large wheels aid in reducing mud build up.
Back to Top
Optional Equipment
Rear Steer allows turning in narrow headlands and irrigated land.
Front Stabilizer Wheels (recommended for 12 row) prevents topper from dipping in the corners.
Mechanical Knife Scalpers or Ground Driven Circular Rotating Scalpers(now with new easier to adjust design) top beets giving growers the best possible performance in a variety of difficult harvesting conditions.

[ 8 ]

Rear Row Finder to align equipment over the row hydraulically.
Back to Top
Photos
[ 1 ]

Belt Driven from both sides

[ 2 ]

Rubber Flails

[ 3 ]

L-Knife

[ 4 ]

Cup-Knife

[ 5 ]

Center Bearing

[ 6 ]

Hinged PVC Top

[ 7 ]

Rear Struts

[ 8 ]

Circular Scalpers
Back to Top
Specifications
| Model | 4 Row 30 - 6 Row 22 | 6 Row 30 - 8 Row 22 | 12 Row 22 |
| --- | --- | --- | --- |
| Height | 50" | 50" | 50" |
| Width | 132" | 180" | 264" |
| Length | 144" | 144" | 144" |
| Row Spacing | 17.7" to 30" | 17.7" to 30" | 17.7" to 22" |
| Weight (avg.) | 6,300 lbs | 8,000 lbs | 9,200 lbs |
| Number of Tires | 2 pair big wheels or 2 pair small wheels | 2 pair big wheels or 2 pair small wheels | 4 pair small wheels or 2 pair large wheels with 2 single outer struts |
| Tire Size | 7.6 x 15" or 12.4 x 24" | 7.6 x 15" or 12.4 x 24" | 7.6 x 15" or 12.4 x 24" |
| Tractor Req. | 90 hp | 90 hp | 110 hp |
| Tractor Hyd. Req. | 2250 psi | 2250 psi | 2250 psi |
| Working Speed | 3-5 mph | 3-5 mph | 3-5 mph |
| PTO | 1000 rpm | 1000 rpm | 1000 rpm |
| Drive System | Belt | Belt | Belt |
| Rotor Speed Rubber | 435 rpm | 435 rpm | 435 rpm |
| Rotor Speed Cup Knife | 1035 rpm | 1035 rpm | 1035 rpm |
| Rotor Speed L-Knife | 1035 rpm | 1035 rpm | 1035 rpm |
Back to Top
Available Models
4 Row 30 - 6 Row 22
6 Row 30 - 8 Row 22
12 Row 22
Field Detail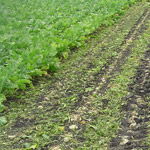 Foliated vs. Defoliated