Shredder Overview
From the originator of the Tri-Lateral Hood design and spiral mounted flail tubes, the Alloway Shredder has always been #1 in performance and durability. Alloway is back in the business of manufacturing a top quality shredder line with a new heavier body, larger aluminum gearbox, 10" flail tubes, larger tires and 1000/1500 rpm rotor speed, we can keep up to the extra tough crops grown today.
Back to Top
Features and Benefits
Heavy Duty Tri-Lateral Steel Body is ¼" thick for extra strength, extended wear and quadruple shredding action.
Rear Struts with screw jacks (optional hydraulic) allow for easy leveling and height adjustment.

[ 1 ]

Centrally Mounted Gear Box eliminates extra belts, bearings, u-joints etc.
Rugged Large Tires for longer wear and bearing life.

[ 1 ]

Floating 3-Point Hitch provides smoother action, reduces hitch stress and pressure.

[ 2 ]

Skid Plate helps prevent machine from bottoming out and keeps rotor and knifes out of the dirt.

[ 3 ]

Large 10" Seamless Steel Flail Tube is dynamically balanced for smooth operation and have replaceable end shafts.
2 3/16" Diameter Flail Tube Shafts and Bearings are double sealed for improved load capacity and bearing life.

[ 3 ]

Spiral Mounted Flails were originally designed by Alloway for reduced pulsing and smoother operation.

[ 4 ]

Heavy Duty Gear Box with extended housing for extra bearing support and larger oil capacity for cooler operation
Safety Light Kit is standard on all units and customized to each machine for added safety.
Structural Steel Tube Cross Bracing for added support and stiffness of frame.
Back to Top
Optional Equipment
Hydraulic Rear Struts enable height adjustments to be made from the tractor operator's seat.
End Transport Kit with clevis or 2 pt mounts for easy transport to and from the field.
Caster Wheel Struts make end turns and difficult field conditions easy. Available with ratchet jack or hydraulic.
Center Dividers pushes material over from center.
Bed Cones for packing potato beds.
Back to Top
Photos
[ 1 ]

Rear Struts/Rugged Tires

[ 2 ]

Floating 3-Point Hitch

[ 3 ]

Skid Plate/Flail Tube Ends

[ 4 ]

Spiral Mounted Flails
Back to Top
Specifications
| | |
| --- | --- |
| Tires (4) | 12.5L X 16" or 12.4 x 24" traction |
| Hitch | 2-point, 3-point or pull type |
| Rotor Speed | 1500 rpm L-Knife - 1000 Cup Knife |
| Hood Type | Tri-Lateral |
| Blade Tip Speed | 12,952 fpm (147 mph) |
| Gearbox | 250 hp |
| Tractor CV PTO | 1000 1-3/4 or 1-3/8 |
| Min. Tractor Horsepower | 6 hp/ft cutting width |
| Body Thickness | ¼" throughout |
| End Plate Thickness | ¼" |
| Flail Tube Diameter | 10" DOM Tubing |
| Rotor Shaft Size | 2 3/16" |
| Flail Tube End Bearing | 2 3/16" |
| Knife Pattern | Spiral |
| Knife Retention | Bolt-On Cup, D-Ring L-Knife |
| Hitches | Category II or III 3-point or pull type |
Back to Top
Available Models
12 foot
15 foot
18 foot
20 foot
22 foot
25 foot
27 foot
30 foot
Windrow
Field Detail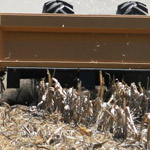 Shredder in Action
Product Resources
Video Gallery